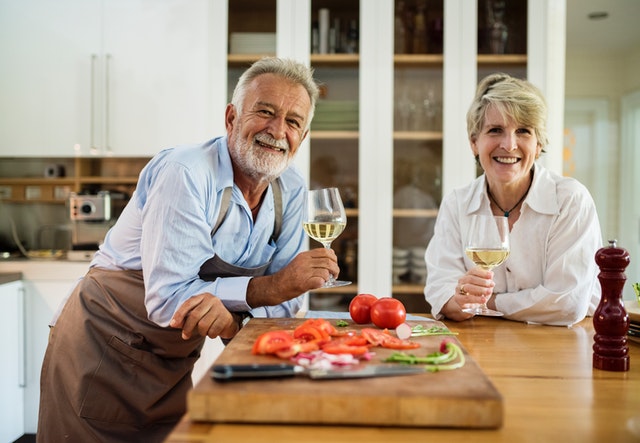 Maintaining a healthy and nutritious daily meal plan is something many individuals struggle with however, as we age this task can become increasingly difficult. Eating healthy is crucial for all nonetheless, there are many obstacles such as grocery shopping or difficult meals that can stand in the way between a healthy senior and a healthy diet. Compiled below are 12 easy and healthy recipes for seniors to incorporate into their daily eating. Consult your doctor to ensure these are in line with the best dietary needs for you and then devise a plan to shop for these ingredients. Consider meal prepping or preparing these meals in advance to make it easier for you to remain consistent with your eating. Have fun with it, makes this a weekly ritual to look forward to, and don't be afraid to recruit a friend for help.
Breakfast
Breakfast meals should be quick and easy to assemble while also full of nutrients. Add eggs, yogurt, oats, fruit, whole wheat bread, and avocados to your ingredients list for a variety of easy breakfast meals.
Hard- boiled egg with a side of toast and fruit (simply toss the eggs into boiling water and peel once cool, serve with a side of you favorite food, and a slice of whole wheat toast)
Greek yogurt (greek yogurt mixed with berries and oats is a great breakfast go-to and easy to pre mix the night before)
Oatmeal (oatmeal is a classic breakfast recipe that can even be microwaved! 1 cup water, 1/2 cup oats and a pinch of salt, in a 2-cup microwavable bowl, add some banana slices once cool )
Scrambled eggs ( making scrambled eggs serves as a great at opportunity to toss in you favorite veggies such as tomatoes and mushroom)
Avocado toast ( toast two slices of who wheat bread and spread fresh avocado on each, feel free to add olive oil, salt, and pepper for taste)
Lunch
Lunch is the perfect opportunity for some midday nutrients and energy. Be sure to incorporate lots of leafy greens and lean fats into this meal time. Steamed veggies and brown rice are also very easy to microwave and can be incorporated into various meals.  Add lettuce mix, cheese, mushrooms, tomatoes, green peppers, ground turkey, salmon, and broccoli, to your shopping list. All salads are easily meal prepped, simply take your favorite leafy greens and place into a Tupperware container, add in all your favorite veggies, sprinkle with light cheese, and refrigerate. Add in your protein and dressing when you are ready to eat to avoid the salad becoming too moist.
Cobb Salad (add eggs, tomatoes, mushroom, shredded cheese, green peppers, grilled chicken, and your favorite dressing)
Steamed broccoli and Salmon(you may substitute broccoli for green beans or other preferred veggies)
Turkey Taco Lunch Bowls (cook ground turkey in a skillet and distribute in Tupperware, add tomatoes, avocado, corn and steamed rice)
Dinner
Dinner is the last meal of the day and often allows for the most creativity. Try out these delicious dinner ideas that are still easy to prepare and lost of fun to make! Add cilantro, shredded cheese, rotisserie chicken, ground turkey, taco seasoning, tortillas, sour cream, and bell peppers to your shopping list.
Baked chicken and steamed veggies ( pre-bake chicken in slow cooker or oven and serve with your favorite veggies)
Ground turkey tacos (take your ground turkey, and pour onto soft tortilla, add tomatoes, sour cream, avocado and light cheese)
Stuffed peppers ( take large bell peppers and cut in half, pour in pre cooked ground turkey, add tomatoes, avocado and light cheese. Bake in oven for 15 minutes and top with sour cream)
Enchilada skillet( shred a store bought rotisserie chicken, place in skillet, add veggies, cilantro, cheese, and taco seasoning. Top with sour cream and avocado)
If you or someone you love is interested in learning more about Long Term Care Insurance be sure to visit: LTC TREE for more information.