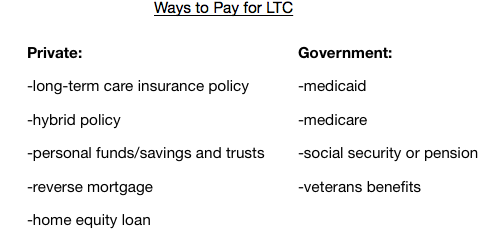 Long-Term Care Insurance Policies
LTC insurance policies reimburse policyholders a daily amount for services to assist with activities of daily living. You can pick the benefits, care options, amount of coverage, length it lasts, and how long you wait before receiving the benefits. Normally, you pay an annual premium for life or you can pay a set amount monthly. If you already have a debilitating condition you are likely not eligible for LTC insurance.
Hybrid Policy
Annuity combined with life insurance policies that help you pay for long-term care are called hybrid policies. The life annuity aspect gives you back the money much faster, and potentially multiplied somewhat to pay for care.The life insurance aspect gives a percentage of the death benefit monthly when LTC is needed. This adds cost, and typically comes out of the cash accumulation of the life policy.
Personal Savings and Trusts
By setting aside and saving up enough money you pay out of pocket for the costs of LTC. Many are not able to afford LTC by using personal funds and if they are they usually use up all of their savings.
A trust is a legal entity that allows one to transfer assets to another. Once established, the trustee controls the assets for the person or another beneficiary. You can use a trust to provide flexible control of assets for an older adult or a person with a disability. Two types of trusts that can help pay for LTC services are Medicaid disability trusts and charitable remainder trusts.
Reverse Mortgage
A reverse mortgage is a special type of home loan that allows a homeowner to convert part of the ownership value of the home into cash. No repayment is required until the borrower no longer uses it as a main residence, sells the home, or passes away. Although there are no medical or income requirements, you must be 62 years of age or older. If you have an existing mortgage or debt against the home you have to use the funds to pay off those debts first before using them for LTC.
Home Equity Loan
With this loan the bank issues a set line of credit against the equity of your home. These are highly attractive for short-term needs because you can typically repay and borrow against the line of credit as often as you like. You start making repayments immediately and monthly payments are based only on how much drawn from the available line of credit at that time. This loan typically has lower interest rates and fees than reverse mortgages and have no mortgage closing costs. Your credit score and history are major factors in eligibility.
Medicare
The largest source of long-term care funding is Medicare. This is a federal government program designed to help low-income families with both acute and long-term care. It covers some of the medical costs for those age 65 or older, all people with late-state kidney failure, and those who have received Social Security Disability Income for 24 months. Although it is a federal government program it is state run therefor eligibility requirements depend on location.
Under federal law, all state Medicaid programs are required to cover the cost of nursing homes if needed- state officials decide how much to pay facilities. Currently, 43 states provide some level of financial assistance for assisted living. Home or community-based services are typically reserved for those who would otherwise require a nursing home if services weren't provided at home.
Medicaid
Medicaid is a combined federal and state program for low-income individuals and families. It will pay for ongoing long-term care needs, but persons must deplete almost all financial resources first. There is a lot of criteria for eligibility and varies by state, so do your research. Not every facility accepts Medicaid users.
Social Security
Social Security is a federal program that provides retirement income for seniors who have paid into the program. There are multiple Social Security programs that you can use to pay for LTC services. The benefits are usually not enough to entirely depend on these programs to pay for LTC. Social Security has something called "compassionate allowances" to help people with Alzheimer's disease, Dementia, and other serious medical conditions get disability benefits more quickly.
Veterans Programs
The U.S. Department of Veterans Affairs, also known as the VA, may provide long-term care or at-home care for some veterans. There are a number of different compensation and benefits programs available to veterans and their spouses. Veterans who have served in qualified periods of conflict, as well as their spouses, are permitted to receive financial aid to pay for LTC. Home and community-based services are available to all veterans enrolled in VA health care, as long as there is a need and services are available near you. There are no financial eligibility requirements. It is recommend that you meet with a VA social worker to help you look into different programs, the available benefits, and eligibility criteria.
The VA runs its own nursing homes and also contracts with outside nursing homes to care for veterans. Eligibility requirements vary and are based on your service connected status, level of disability, and income. The Veterans Affairs does not pay for assisted living but it may cover some of the other services at facilities.
The Aid and Attendance and Housebound increased monthly pension program provides funds for care at home, in assisted living, independent living, or a nursing home to veterans who require regular assistance of another person in order to perform activities of daily living, are bedridden, living in a nursing home due to physical or mental incapacity, blind, or permanently and substantially confined to their home due to a disability.