Deciding when it's time to look for senior living arrangements for a loved one can be overwhelming. There are many types of senior living options but the two best known are assisted living communities and nursing homes. First and foremost you must evaluate and understand the needs of the person and their personality. This will best prepare you for your search, findings, and decisions.
Defining the two…
Nursing Homes:
Residents in nursing homes require 24/7 care, medical support, and monitoring. These are normally people with complex, chronic, and or debilitating health conditions. Due to their conditions they need the access to nurses and doctors at any time. Your typical nursing home is going to look like a homey hospital; meaning, while the dynamic is very hospital-esc these facilities do their best to make it as comfortable as possible. Keep in mind that these aren't just for long-term residents, nursing homes see many patients in short term recovery as well.
What you should see in nursing homes:
24-hour staffing and personal assistance
daily cooked meals
comfortable rooms
housekeeping and laundry services
various medical management and hospice care
physical therapy and exercise programs
programs and activities for socialization
What you shouldn't expect in nursing homes:
a private room- unless you're able to specifically request or afford a private room, your loved one will most likely have a roommate
a 1:1 of resident and care provider
the end of accidents- things happen, you can't expect accidents to never happen again
poor/inhumane treatment- yes we've all heard or seen the horror stories but don't stereotype nursing homes as a whole
The national, average cost of a nursing home is between $6,800 (semi-private room)-$7,700 (private room) monthly, which comes out to $81,600-$92,400 annually. The costs are dependent on the length of your stay, geographical location, type/size of room, and necessary assistance. Most short-term care and even some long-term care (if you need the necessary requirements) is covered by Medicaid or Medicare.  Unfortunately, most long-term care is not covered therefore many people pay out of pocket or help from their insurance policies. However, many states offer home and community-based waivers that help low-income residents afford assisted living. So make sure you look into these options.
Assisted Living: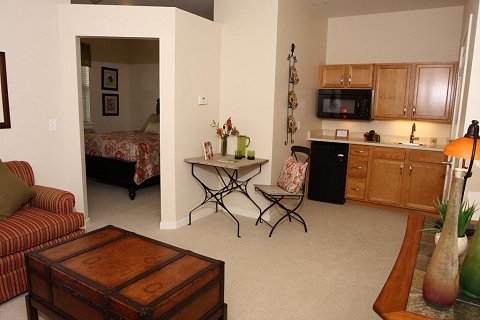 Assisted living residents are typically on the more independent side and don't require around the clock medical surveillance. For a lot of these people assisted living allows them to receive the perfect level of care they need while eliminating many unnecessary stressors helping them to live their best, care-free life. Unlike nursing homes, assisted living facilities resemble an apartment-like community where residents have their own bedroom and living space. Keep in mind that assisted living is an option for those with Alzheimers too. Many of these communities have special units for memory care, so if your loved one is in the early stages and still relatively independent this is something to look into.
What you should see in assisted living:
24-hour supervision and security
basic housekeeping and laundry
daily meals
health and exercise programs
programs and activities for socializing
access to medical services
transportation to external things like doctors appointments or the grocery
What you shouldn't expect in assisted living:
around the clock care
access to all of the usual appliances- many communities do not allow residents to have things like candles, stoves, irons etc.
The national, average cost of assisted living is between $2,500 and $6,700 monthly, which comes out to $30,000-$80,400 annually. An attractive quality about assisted living is that the price depends on the person's needs so you're able to add or remove what your loved one needs and doesn't need. Some pay out of pocket and by doing so it allows seniors to keep the assets they own. Medicaid and Medicare differ between states but if you meet the qualifications and income requirements you will most likely receive some sort of help. Look into your state's and plan's coverage information to be sure. If you do not have either of those but have a long-term care insurance policy these usually cover some of the expenses. Veterans programs and benefits are yet another source those qualified can use to help pay for this. 
So how do you choose? Nursing homes are the clear choice for seniors who need more care and around the clock attention. Nursing homes offer a sense of community, like assisted living, but medical care is their first priority. For seniors that are still pretty independent, but need help with day to day activities, assisted living is a great choice.