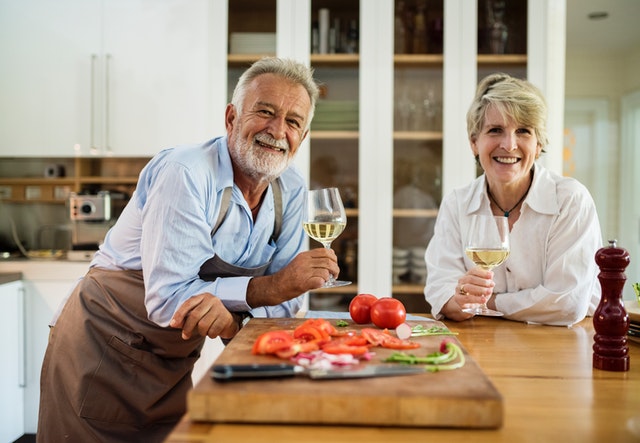 In an effort to help our clients stay healthy and avoid from using their long term care insurance policy as long as possible, we are committed to featuring health tips and tricks found on the health tab of our website. Here you can find news, videos, and "Feature Friday's Healthy Recipes", available to you every Friday.
This Friday's Featured recipe includes four delicious recipes you can use to feed the whole family all from staples already found in your pantry!  (Please note none of these recipes belong to LTC TREE)
Orzo and Chickpea broth (Full Recipe)
Ingredients
3 cups water
4 single-serving turmeric-ginger tea bags (such as Rishi)
1/2 cup unsweetened coconut milk
3 tablespoons fresh lime juice (from 2 limes), plus lime wedges, for serving
3/4 teaspoon kosher salt
1/2 teaspoon fish sauce (such as Red Boat)
1 (15-ounce) can chickpeas, drained and rinsed
1 cup cooked orzo or other small pasta
 Thinly sliced shallot, cilantro sprigs, and sambal oelek or Asian chile-garlic sauce, for serving
Ingredients
8 ounces dried rigatoni
1 medium head cauliflower, cut into small florets
3/4 teaspoon kosher salt
1/2 teaspoon ground black pepper
1/3 cup olive oil, divided
3 tablespoons capers, rinsed
3 garlic cloves, thinly sliced
4 anchovy fillets, roughly chopped
Pinch of crushed red pepper
1 tablespoon lemon zest
1/2 cup roughly chopped fresh flat-leaf parsley, divided
1/4 cup grated Pecorino Romano cheese, divided, plus more for serving
Ingredients
1 pound dried navy beans, rinsed and picked over
1/8 teaspoon baking soda
1 tablespoon vegetable oil
4 meaty ham hocks (about 3 pounds)
1 medium yellow onion, finely chopped
1 medium fennel bulb, cored and finely chopped
4 garlic cloves, minced
1/4 cup white wine
1 teaspoon Herbes de Provence
1⁄2 teaspoon kosher salt
1⁄2 teaspoon freshly ground
black pepper
2 tablespoons chopped fresh parsley, for garnish
Ingredients
2 tablespoons olive oil
2 cups chopped yellow onion (from 1 large onion)
1 cup chopped poblano chile (from 1 chile)
8 garlic cloves, minced
3 pounds 90/10 lean ground chuck
1 (6-ounce) can tomato paste
1/3 cup ancho chile powder
2 tablespoons ground cumin
1 tablespoon kosher salt
1 teaspoon black pepper
1 teaspoon fresh thyme leaves
1 teaspoon chopped fresh oregano
2 (15-ounce) cans dark red kidney beans, drained and rinsed
1 (15-ounce) can black beans, drained and rinsed
1 (28-ounce) can crushed tomatoes
2 cups lower-sodium chicken broth
1 (12-ounce) bottle of beer
Shredded cheddar cheese, sliced jalapeño chiles, sliced radishes, and sour cream, for serving
If you or someone you love is interested in Long Term Care or Long Term Care Insurance be sure to visit: LTC TREE for more information.