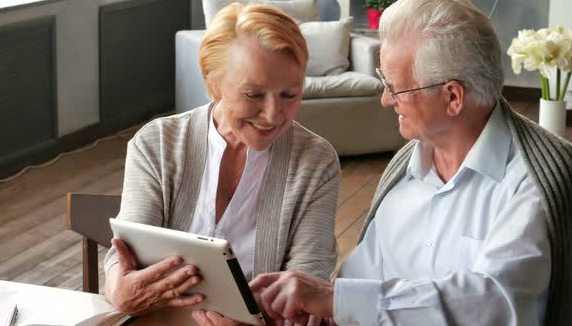 Chances are you are currently visiting this blog via your iPhone right now. Since there debut back in 2007 , it appears everyone now has an iPhone and theres little question as to why! The iPhone has many capabilities as it gives you access to millions of apps, talk, text, and ease of use. Yup thats right for most of us the iPhone is fairly easy to setup and navigate through, but what about for your elderly parents or grandparents?  The iPhone undoubtedly has many capabilities that even the elderly would like to take advantage of such as talking, texting, social apps, reminders, and more however, it may not be as easy for them to utilize on a daily basis. If you are an elderly adult who has or is considering purchasing and iPhone but are apprehensive about how user friendly this phone may be for you, keep reading. Compiled below are a list of easy setting tweaks you or a loved one can setup to help make the iPhone easier for you to navigate.
Increase text size
iPhone give you the option to increase your font size. Doing so can make it easier for seniors with poor vision to read and text. To adjust text size:
Settings> Display & Brightness
Select Text size
Adjust slider to desired size
2. Enable Display Zoom
This option not only increases the size of your text but also increases the size of all images on your display screen thus, making it easier to view. Display zoom is a great feature to enable on your iPhone heres how:
Settings
Display & Brightness
Display Zoom>view
Select Zoomed
3. Use Voiceover
The voiceover feature will read menu items out loud to you for your selection. You can also adjust the rate at which it reads to you .To Activate:
Settings > General
Accessibility> Voice Over
Turn On Voiceover
adjust speaking rate 
4. Speak Selection
This feature works similar to Voiceover. You can actually select parts or all of a text message and Siri will read the text out loud to you. Heres how:
Settings>General
Accessibility > Speech
Enable Speech Selection
Select Voices 
5. Enable Voice Dial
Voice dial lets you speak out and name who you would like to call without even having to unlock your phone. Here is how to enable:
 Settings
Touch/Face ID & Passcode
Click Voice Dial
These simple tweaks can make your senior iPhone user experience all the more enjoyable.
If you or someone you love is interested in learning more about Long Term Care Insurance be sure to visit: LTC TREE for more information.