Last Updated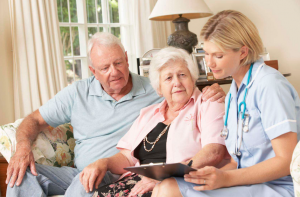 ---
Whether this is your first or one of many Christmases with a loved one in a nursing facility, Christmas can feel a little less cheery for the both of you. Perhaps it is your mom in the nursing facility and perhaps she is feeling a bit discouraged to be spending the holidays away from home. This year many families are unable to spend the holidays at home or together however, that doesn't mean you can't have any Christmas cheer this year. There is still a lot to be grateful for this year and much to celebrate. Not to mention mom can be included too and here's how:
Acknowledge the situation
If this is mom's first Christmas in a nursing home, you may be feeling guilt over her spending the holidays alone. You should note that these feelings of grief are normal as we process change. These feelings can be alot to handle and you may feel it best to just avoid talking about. My advice to you is, do the opposite and acknowledge all that you and your loved one may be feeling. It is okay to go over exactly what she feels she is missing this year. It may even help give you ideas for how to best comfort her. Additionally, it may help for her to hear that she will also be missed and thought of this holiday season.
On the other hand your loved one may actually prefer not to discuss the subject at all however it is best to check before assuming. Allowing your loved one an outlet to express themselves with someone who cares can help them feel heard and loved. Afterall, they may already be feeling forgotten or left out, focusing on their feelings may help ease some of those feelings.
Long-term care celebrations
Although mom may have to miss being at home this year that doesn't mean she has to miss you too. If your loved one cannot join you in your home this year and visitation allows it, safely visit them. Check your long term care facilities guidelines for visits this holiday season and act accordingly. Some of these facilities may even have a space for you and some of the family to safely gather with mom during the holidays. Another alternative to avoid crowding, is to have specific family members celebrate with her on varying days. These visits can mean so much to a loved one struggling with loneliness and change.
Even if your loved one is affected by dementia and does not always remember you, your presence can still matter. Many studies show that even patients with dementia can experience positive feelings from family visits regardless of memories.
Send your love
If it is not safe or possible for you to visit with mom this year, you should note that there are still many ways to communicate or "send" your love. The easiest way to do so would be to send mom a holiday card. Write out a thoughtful message and send pictures for her to hang around her room. Another bonus idea is to reach out to the family and organize a mass card send off to her. This will allow her to fill her room with cards from the whole family. The constant outpour of cards from those she loves can help her feel remembered.
Keep the traditions
For many families part of the holiday fun is the long standing traditions practiced each year. For many this involves food and tasty family recipes. Gathering with family and cooking/ enjoying delicious family recipes can be so joyous. Perhaps your mother has always prepared a certain dish passed down by her mother. The family may be sad to be missing it this year as well as she may be sad to not be preparing it this year. While she may not be able to cook in her own kitchen this year, perhaps you can for her. Let her know that you are attempting her recipes this year as they are family favorites and then deliver some for her. A warm and familiar meal prepared with love and by you can be just the gesture she needs this Christmas.
A Christmas field trip
Depending on your facilities guidelines a day field trip may still be allowed! Check with your facility to see if a checkout period is allowed for mom this year. If so and if you both feel comfortable with that, have at it! Some tips to increase safety would be to follow social distancing guidelines and opt for an outdoor activity. You can also consider hosting a small gathering in your home including masks, hand sanitizer, and any precaution to help you feel more safe. Some families opt for testing and quarantine prior to meeting together and this is also an option.
Gifts to give
The long time christmas tradition of exchanging gifts doesn't have to end because mom is in a nursing facility. Consider keeping this tradition alive and even recruiting more family members to send their gifts. Consider gifts that will brighten her mood and make her feel loved. Some great ideas to consider are:
Blanket
Books
Pictures
Personalized Items
Musical items
Another idea she may appreciate is for you to help her send her love and gifts to the family. If this is something she has always enjoyed doing she may be sad to miss it this year and he may be feeling disconnected. You can teach her how to use your amazon prime account or get on a phone call to discuss which items she had in mind for everyone. If you can offer to pick these items up for her and either wrap them together or for her. Another option is to ensure she has the supplies needed for her to craft any gift ideas she had in mind. This can be another way to help give her a hobby while checking things off of her list.
Involve the facility
Consider communicating with the staff at your facility to see if any of your family's holiday traditions may be fun for the entire facility. Perhaps your family always goes christmas caroling and the staff would love for you to carol with the facility. If your family always bakes cookies consider dropping some off for the staff and residents who may enjoy this. This can be a great activity for the whole family to participate in as well as a good way to give back.
 Memory Care
Each year countless individuals are affected by Alzheimer's disease or dementia. The effects of this condition can be life altering and change many aspects of life for individuals and their loved ones. This disease is progress and will often worsen with time. Eventually those affected, will likely need help with daily tasks. Memory loss, brain fog, and forgetfulness can get in the way of many daily activities for seniors such as:
Walking
Eating
Dressing
Bathing
Transferring
Toileting
Due to this many will find themselves entering memory care facilities for daily assistance. These facilities are targeted at caring for this with memory related issues and will often provide specialized care. This care often includes help with the daily activities listen above as well as medication management, and memory care therapy. This type of specialized care can help improve the quality of life for the many affected by this condition.
Holidays & dementia
If you have a loved with Alzheimer's or dementia who will be spending their holiday within a memory care facility, you may be feelings discouraged. Perhaps you are feeling grief, guilt, or stress related to the situation. You may also be wondering how to continue to make the holidays special for them and whether or not they will even remember it. It is clear that while your loved ones memory or situation may be changing, your love for them has not. Although these big changes can be alot to process and handle you should note there are still ways to communicate your love this holiday season.
Send a gift
You are probably most accustomed to letting someone know you thought of them this holiday through the act of gift giving. This may leave you wondering what kind of gift would be suitable or appreciated now that they are in a memory care facility. Perhaps, you are asking yourself questions like, "will she remember this" "does she still like this"and will she be able to use it"? These are all valid questions and we hope to shine some light on these questions. There are many gift ideas for individuals in different stages of dementia and here are just a few:
The early stages:
Postage materials-  Help your loved one stay connected by ensuring they have the materials to send letter to those they love. This can also be helpful to their memory care.
Photo calendar -This can be a great tool to help your loved one remember important dates and events they may feel stressed about forgetting. Add pictures for more brain stimulation.
Clock with Date and time stamp– Keeping up with time and dates can be increasingly difficult as their condition progresses. This may help make it easier for them.
Photo phone– This type of phone is usually large and easy to use. It features saved number with photos to match so they can remember who they may want to call.
Digital photo frame- This type of frame plays an ongoing slideshow of favorite memories and loved ones. A constant image of these memories can help jog daily memory.
Thank you letter- A simple letter detailing all the reasons you are thankful for this person/ all the things you have learned from them could make the perfect gift.
Brain Games– Brain games like puzzles, word puzzles, board games, and even coloring books can be beneficial in helping retain mental sharpness and memory.
Familiar sights and sounds– Favorite songs and tv shows can help stimulate memory and produce positive emotions in those with Alzheimer's and dementia.
Favorite books– Familiar books as well as new ones can also help stimulate the brain and memories. It can also give your love one a pastime.
Home videos– Home videos from your family throughout the years can be the most cherished gift to someone with fleeting memories.
Middle or late stages:
Medical identification bracelet- This could help locate your loved one in the event that they ever wander off. They also include some aesthetically pleasing options
Scented lotion- The stimulation associated with a familiar scent can often have a positive effect.
Comfy clothes- Consider accessibility but don't forget t consider their own personal style and taste(color, prints, etc).
Manicure- A massaging manicure and a pretty color when looking at her hand may be appreciated.
Blankets or lap robes- These are great for love coverage that is less likely to get caught in the wheels for those who are wheelchair bound.
Stuffed animal- Stuffed animals are great for those who miss cuddling with furry friends.
Costume jewelry- Safe jewelry pieces are a great option for those who enjoy fashion and color and may miss getting dolled up.
GPS tracking system- This could also help locate your loved one if they become lost or confused in a public area.
How to visit with
You may be planning to visit and personally deliver gifts to your loved one with dementia this season. Perhaps, you have noticed their condition is progressing and are a bit nervous on how to set  yourself up for the best visit. Many wish for their visit to be a positive experience for their loved ones filled with good cognitive abilities and memories. Although this is not always the case for those is the middle to late stages of dementia, it is still certainly possible. Here are a few suggestions that may help improve your visits:
Touch- Gently touch can help communicate love and compassion to even those struggling to understand words.
Outdoor activities– A outdoor setting and sunlight can help brighten your loved ones spirits.
Music– Playing familiar music can help evoke memories and thoughts throughout your visit.
Non verbal expressions– When communicating details of people they may not remember be sure you do not have a stressed or negative expression on your face.
Have patience and understand that some days will be good and other may be more challenging. Nonetheless, showing your loved one you care is what matters most. If you or someone you love is interested in Long Term Care or Long Term Care Insurance be sure to visit: LTC TREE for more information.
Social Share